Deploy SMSEagle for Secure, Redundant SMS Alerts at Scott Data Center
"Before deploying SMSEagle, our Building Management Control System (BMCS) would send alerts to the facilities department via email," says Chad Grace, Director of Information Technology at the Scott Data Center and Scott Technology Center. "However, our email server was a single point of failure."
For a company responsible for protecting their corporate clients' data and operations, that wasn't good enough! If anything went wrong with the power, cooling, or security systems, and their email server failed simultaneously, the results could be catastrophic for clients relying on them for 24×7 business continuity.
Founded in 2006 and located in Omaha, Nebraska, Scott Data Center is recognized as a national leader in data security and storage. Covering more than 110,000 square feet, Scott Data Center combines state-of-the-art facilities, hyperscale capacity, transparent client access, and a relaxed, personalized approach to deliver unmatched services for companies of all sizes. Scott Data Center shares a campus with Scott Technology Center, a technology campus and workforce development center enabling businesses and tech startups to operate, collaborate, develop, and grow.
The Challenge: Meeting the expectations of Tier III certification
With clear-cut criteria for each Tier Certification, the Uptime Institute is a third-party data center evaluator helping enterprises and service providers worldwide build and maintain business-critical infrastructure, optimizing efficiency, performance, and reliability and reducing risk. With over 1,700 Tier Certifications issued in over 98 countries, the Uptime Institute's Tier Standard Certification is globally recognized as the gold standard for data center Design, Construction, and Operations.
A hardened environment, Scott Data Center is the only multi-tenant data center in Nebraska—and one of only 12 nationwide—to receive the Uptime Institute's Tier III Certification in both design and construction. Tier III Certification means that Scott Data Center is concurrently maintainable with full component and distribution redundancy, allowing maintenance, repair, or replacement to occur without impacting the system. It also means that if a piece of equipment fails or power is cut off, back up equipment and alternate power sources ensure operations stay online.
But that's not all.

Eliminating single points of failure
Every component failure, capacity threshold, or security breach—physical or cyber—must be immediately reported to facilities and operations to ensure issues are addressed and risks mitigated as promptly and efficiently as possible. This entails building a robust communications infrastructure with full redundancy and zero single points of failure.
"The Facilities team is responsible for the health of the critical mechanical systems in our Data Center," states Grace. "Our Building Management Control System (BMCS) alerts them via email through our email server. However, paralleling the N+1 design of our critical systems required a second path to deliver alerts simultaneously, so we send an email to our cellular carrier who converts it to SMS and forwards it to Facilities."
But that posed a problem.
Chad Grace, Director of IT at the Scott Technology Center
"SMSEagle provides us a second independent path for sending alerts … we're more comfortable knowing there won't be any issues receiving alerts within our business critical facility."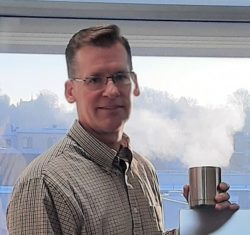 Since the email server was used to forward the alert directly to both facilities and the cellular provider, it was a single point of failure with potentially disastrous results for Scott Data Center and its clients. Grace needed an alternative SMS communications path— or out of band alarm—that bypassed the email server and delivered alerts directly to the facilities team.
Providing independent paths for delivering critical alerts
"To eliminate the email server as a single point of failure, we implemented SMSEagle," explains Grace. "The BMCS still sends the alarm to our email server for delivery via email, but it also sends the alert directly to SMSEagle for delivery via SMS over the cellular network. That gives us two completely independent paths for delivering alerts."
Supporting global GSM, 3G, and 4G standards and full waveband coverage, SMSEagle's radio modules deliver fast, reliable SMS connectivity. Bypassing the Internet and working independently of third-party providers, SMSEagle sends SMS messages directly to your cellular operator. Designed and manufactured to work optimally in a wide variety of environments, SMSEagle provides a range of ready-to-use APIs and plugins for fast, easy integration with existing solutions, systems, and workflows, including a range of Security Information and Event Management (SIEM) systems.
"Now that we're using SMSEagle in conjunction with BMCS to send SMS alerts to Facilities so they can respond," adds Grace, "we're more comfortable knowing there won't be any issues receiving alerts within our business-critical facility."
Create the right solution for your company
Your obstacles are unique, and the solutions for them should be too.
The APIs of SMSEagle allow companies like Scott Data Center to incorporate communications
into their workflow in a way that makes sense to them. To find out how SMSEagle will allow you
to create the solution you need, get in touch with our team.