Sending SMS without Internet connection
If you want to be sure that your SMS will get through even if your Internet connection fails: SMSEagle hardware SMS gateway sends SMS directly to GSM network without using Internet connection.

Fast and seamless integration
At SMSEagle we help you integrate our device with existing systems and solutions. We provide ready-to-use plugins for NMS & Authentication systems. SMSEagle is equipped with HTTP API and can convert Emails to SMS.
Security control
The device is installed on your premises, so you have a full security control over who accesses your device. You can also tweak internal firewall to be sure that only entitled persons access SMSEagle.
Cost control
SMSEagle device uses your SIM card. This allows you to have a contract with your own carrier the bests suits you. You can control costs of sending/receiving messages and adjust your SIM contract to your needs.
Proven solution
SMSEagle is used in many countries, in almost all of the continents. The device has been field-proven in hundreds of cellular networks. SMSEagle uses worldwide standards: GSM and UMTS. This makes it universal, worldwide.
Continual improvement
SMSEagle software is under process of continual improvement. We listen to our customer's feedback, and new software releases are based on our customer's inputs/requests. Access to software upgrades for SMSEagle device is free within warranty period.
Production quality
We pay attention to production quality to make the product as reliable as possible. Therefore our hardware is manufactured in the European Union. It is prepared to work even in the toughest temperature and humidity. Our software meets the standards of modern and secure applications.

Help on every stage
We offer support and help at every phase of product lifetime. You get full information before you make a purchase decision. We offer post-sales integration assistance in integration of SMSEagle into your environment. Finally, we strive everyday to offer you fast and prompt technical support services.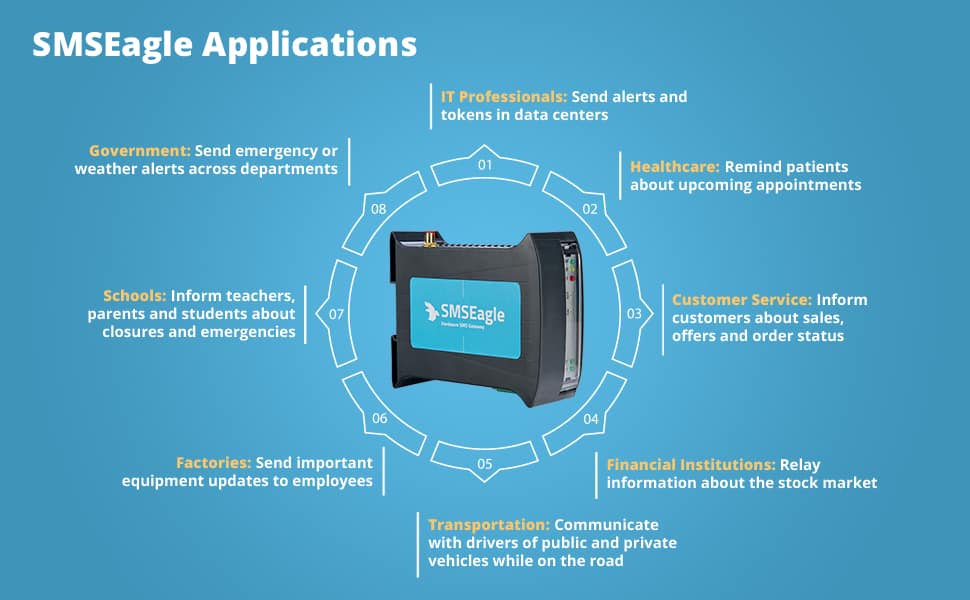 In the end SMSEagle is a result of our passion and engagement. We translate it into dependable and useful devices. We want to be close to our customers and continue to grow as people and as a company. When we create new hardware and software, we think about people who will use it.
This drives us to be even better everyday.