Check Point SMS notifications – integration manual
Here we describe how to use SMSEagle for Check Point SMS notifications.
In order to configure SMSEagle with Checkpoint DynamicID, please go to GW configuration -> Mobile Access -> Authentication
Under DynamicID Settings click on "Edit"
In newly opened window "SMS Provider and Email Settings" paste SMSEagle API URL:
https://SMSEagle_IP/http_api/send_sms?access_token=XYZAPI&to=$PHONE&message=$MESSAGE
where SMSEagle_IP is SMSEagle's IP address, and XYZAIP is access_token created for your user in SMSEagle webUI
Important information:
Remember to use a SSL certificate issued by a recognizable CA. LetsEncrypt is treated as unsafe CA on CheckPoint.
If you use SMSEagle inside the network and it is not possible to issue a certificate, we suggest to put SMSEagle in an isolated network and use the HTTP protocol instead of HTTPS.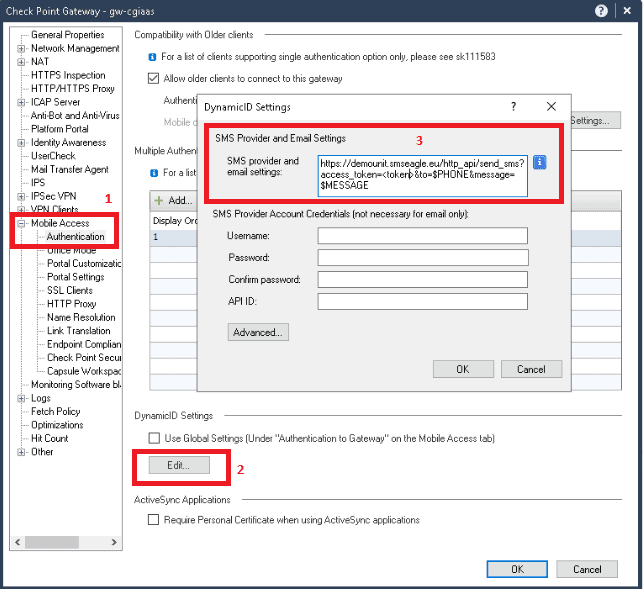 [/vc_column_text]
Have Questions?
SMSEagle devices are designed for easy setup. If you don't have a device yet, just buy your SMSEagle and get started with your integration. If you need technical assistance or have questions about our products, we'll be happy to help you.