OpManager SMS notifications – integration manual
Here we describe how to setup OpManager with SMSEagle for SMS notifications.
SMSEagle Setup
OpManager integration uses Email To SMS plugin (see details: Email To SMS plugin).
OpManager Setup
Configuring Mail Server Settings
OpManager allows you to configure e-mail alerts and SMS alerts to get notified on the fault in your network. By default, OpManager sends the mail to the mail server specified in the e-mail notification profile. To configure the SMTP server settings globally and to provide the secondary mail server settings, follow the steps given below: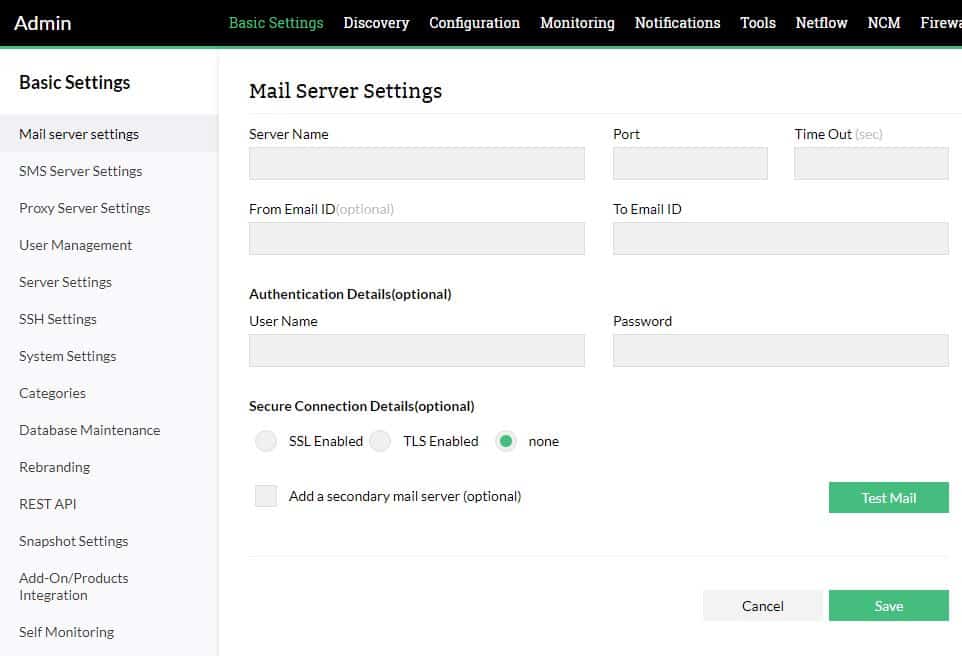 Under the Admin tab, click Mail Server Settings.
Enter the SMTP Server name as IP address of SMSEagle and Port number as 25.
Configure the From and To Email ID fields.
Enter a Time Out interval.
Configure the User name and Password details, if the server requires authentication to send e-mail (optional).
For SSL authentication, select the SSL Enabled check-box, browse and select the SSL certificate and key-in the password (optional).
Verifying Configuration:
To test the settings enter the Email ID and click Test Mail. This e-mail ID will be considered as the default To Email ID while creating Email and SMS notification profiles.
If you have a secondary mail server in your network, select Add a secondary mail server and provide the details. In case of failure of primary mail server, OpManager uses secondary mail server to send e-mail and SMS.
Configuring SMS Alerts
You can configure OpManager to send SMS to network administrators whenever a fault is detected in the device. You can create separate profiles for each administrator and assign them to devices so that whenever a device has trouble, depending on the trouble, SMS is sent to the technician concerned.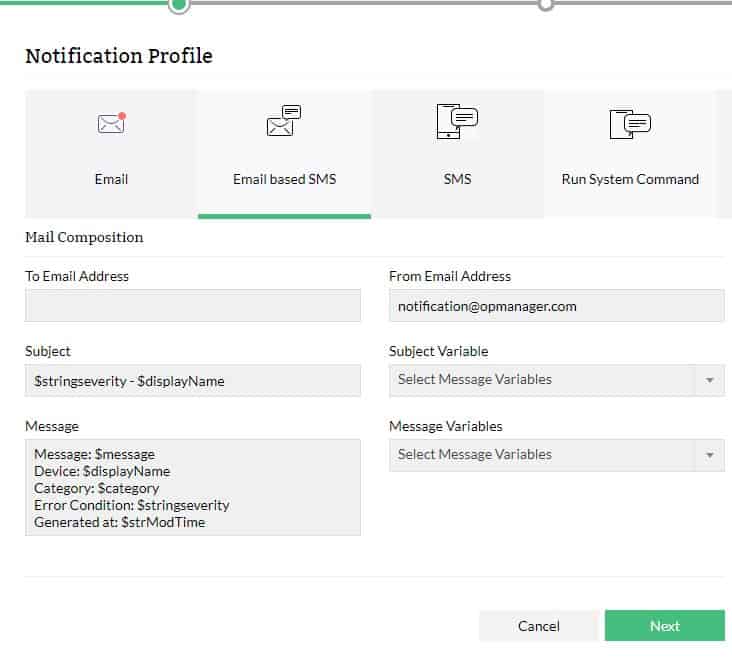 To create an email-based SMS notification profile, follow the steps given below:
Configure the Mail Server Settings if you haven't configured yet.
Click the Admin tab.
Under Alerts, click Notification Profiles.
From Email-based SMS column, click Add New.
Assign a meaningful name to this profile.
Type valid To and From Email addresses.
Select the required alarm variables that you would like to see in the sms alert.
Save the Profile.
Associate the profile to the required devices. This triggers alerts when faults occur.
Note: Primary and secondary SMTP server settings can be provided in the Mail Server Settings page in OpManager. Whenever a new SMS profile is created, the values of the primary SMTP server and the authentication details will be considered from the Mail Server settings. Refer to Configuring Mail Server Settings for steps to enter the details. If the SMTP server is not available while sending e-mail, secondary mail server will be used to send the mail automatically.
SMSEagle as SMTP Server (optional)
For sending e-mail messages you can use SMTP server installed on the SMSEagle device. Then the configuration of SMTP server is as follows:
SMTP host: IP address of your device
SMTP port: 25
Authentication: SMSEagle SMTP server doesn't require authentication
Encryption: none
SMTP server on the SMSEagle device will accept messages addressed for it only. The other messages will be rejected.
Alternative integration using HTTP API
As an alternative integration method you can use HTTP API send_sms method
All configuration related to SMS Gateway settings messages is done from the Admin -> Basic settings ->  SMS Server settings:
Select HTTP URL type GET and use URL:
http://SMSEagle_IP/index.php/http_api/send_sms
where SMSEagle_IP is gateway's IP address
In HTTP Parameters field place:
login=admin&pass=password&to=$recipient&message=$message
where login and pass variables are username and password for SMSEagle user you just created.