Email To SMS Poller
Email2SMS Poller is a second (alternative) feature for converting emails to SMS messages. This feature should be used when you need to fetch emails from one existing mailbox on your mail server. The Email2SMS Poller plugin connects to configured email account and polls it in specified periods of time for new emails. Once new email is received, it is automatically converted to an SMS message.
The plugin supports POP3 and IMAP accounts.
To send an SMS using Email2SMS Poller you have to send an email to a specified email account, with the email subject containing a mobile number (or multiple phone numbers separated with a comma) or phonebook contact/group name.
BASIC EXAMPLE
For example, such email message:
TO: smseagle@yourcompany.com
FROM: john.doe@yourcompany.com
SUBJECT: +48333444555
BODY: Hello world!
In this case SMSEagle gateway will fetch an incoming email from smseagle@yourcompany.com account and send it's body as an SMS message to +48333444555 mobile number.
SEND TO USERNAME/GROUP
If you want to send Email2SMS to a contact or group from SMSEagle phonebook, put the contact/group name in  SUBJECT field.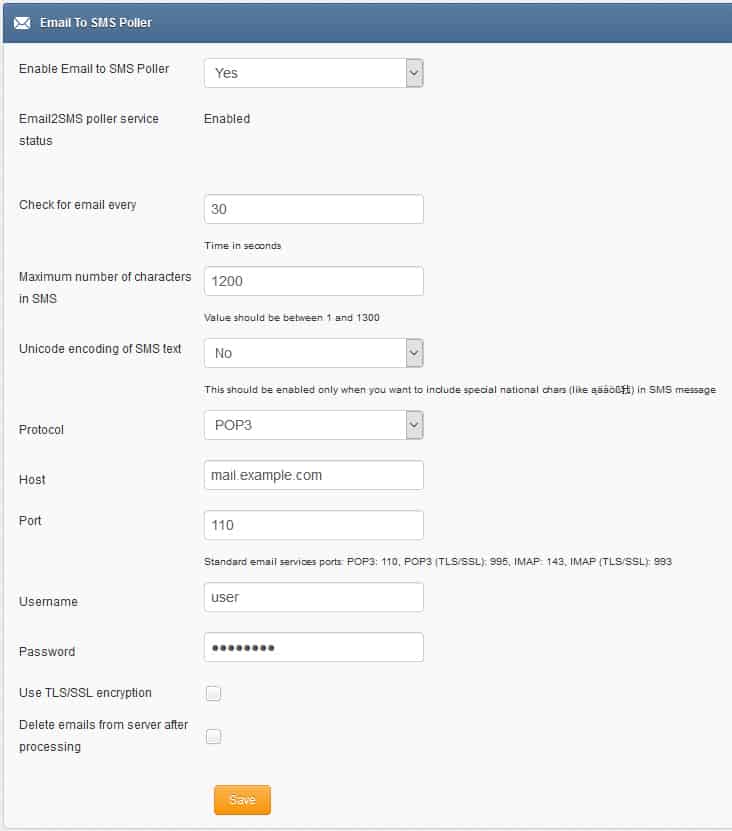 Configuration
If you want to use the plugin, set 'Enable Email2SMS Poller' to 'Yes'
Set email fetching interval (in seconds)
The text of an email will be cropped to the value 'Maximum number of characters'. Maximum allowed length of SMS message is 1300 characters.
If you want to include special national characters, enable "Unicode encoding of SMS text"
Choose protocol from IMAP or POP3
Provide mailbox configuration (host, port, user, password, encryption settings)
If you want to delete emails from the mailbox after they are fetched by the plugin, please mark "Delete emails from server after processing"
Messages that are processed by Email2SMS Poller (but not deleted) are marked in the mailbox as read. Software is based on flagging messages- Read/Unread. Marking a read message in the mailbox as unread will result in being processed again by Email2SMS Poller.
We suggest using a separate email account to avoid situation with re-sending the same message (marking unread already processed read message).