SMSEagle helps Johnson Controls deliver 24×7 secure SMS communications for building automation – worldwide
"Buying equipment for our customers in different countries can be challenging," says Francisco Neto, Johnson Controls' Procurement Manager for Latin America. "We have to deal with different suppliers with different business models. In some cases, the supplier asks for payment upfront before dispatching the equipment, impacting our lead times for installation and deployment as we go through the procurement process."
With hundreds of companies throughout LATAM relying on Johnson Controls for high-quality solutions, sourcing equipment to meet customer requirements with fast, seamless procurement and deployment is essential to their business. Moreover, to simplify the procurement process, Neto is responsible for sourcing equipment that can be deployed in many different environments—some with external dependencies not under his control.
Founded in 1885, Johnson Controls International is a multinational conglomerate with headquarters in Cork, Ireland. Employing more than 105,000 people in over 2,000 locations spanning six continents, the company's two business units design, manufacture, install, and service air conditioning, fire, heating, industrial refrigeration, security, ventilation systems, and mechanical equipment for commercial and residential buildings. Johnson Controls also supplies a wide range of intelligent building management systems and digital solutions to make buildings safer, more comfortable, more efficient, and, at the end of the day, more sustainable.
The Challenge: Providing facility managers with increased control and confidence
Leveraging a comprehensive suite of notification solutions to meet their customers' demands, Johnson Controls provides innovative technologies to manage each building's entire life cycle. These include addressable devices with intelligent communications linking initiating devices, notification appliances, and the control panel, enabling rapid diagnostics and discreet self-testing—of both individual devices or an entire system—without interrupting building occupants. Each device is digitally monitored 24/7, providing facility managers with increased control and confidence.
From design through installation and maintenance, Neto's department sources reliable and cost-effective components from across the world to meet each customer's specific requirements.
But that's not always as straightforward as it might sound.
Ensuring 24×7 communications for essential notifications
Delivering configurable, scalable, and automated safety systems, Johnson Controls customizes each system based on building requirements, providing reliable communications for both safety alarms and malfunction alerts. But with customer installations spanning multiple countries, infrastructures, and environments, challenges arise.
"Our systems push critical alarm notifications to both the control system and mobile phones via SMS," states Neto. "However, one of the other brands of SMS devices we tried out didn't cover the frequency of the cellular operators in LATAM. We needed to find an alternative that complied with our customer's technical specification for sending SMS alerts across the local mobile network."
Francisco Neto, Procurement Manager for Latin America, Johnson Controls
"SMSEagle communicates with a field controller through the IP network, reliably sending critical alarms via SMS from the different customer sites."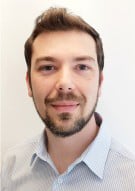 Neto searched for a solution to the problem on the Internet based on the technical specifications required by the customer, identifying SMSEagle as a viable solution.
Supporting different cellular frequencies for delivering critical alerts
"We chose SMSEagle because it fulfilled all of the technical requirements requested by the customer," explains Neto. "SMSEagle communicates with a field controller through the IP network, reliably sending critical alarms via SMS from the different customer sites."
Supporting global GSM, 3G, and 4G standards and full waveband coverage, SMSEagle's radio modules deliver fast, reliable SMS connectivity. Bypassing the Internet and working independently of third-party providers, SMSEagle sends SMS messages directly to your cellular operator. Designed and manufactured to work optimally in a wide variety of environments, SMSEagle provides a range of ready-to-use APIs and plugins for fast, easy integration with existing solutions, systems, and workflows, including a variety of Security Information and Event Management (SIEM) systems.
"The first SMSEagle has been in operation for several months without any problems," adds Neto. "For now, SMSEagle is specific to this project, but we've marked it as the solution to address these technical specifications, and similar requirements should the need arise in the future."
Create the right solution for your company
Your obstacles are unique, and the solutions for them should be too.
The APIs of SMSEagle allows companies like Johnson Controls to incorporate
communications into their workflow in a way that makes sense to them.
To find out how SMSEagle will allow you to create the solution you need,
get in touch with our team.