Effective network security programs require more than just one layer of protection – if one solution fails, you still have others guarding your company and its data from all types of network attacks.
There are best practices that set the highly effective network security programs apart from the rest.
A recent survey conducted by ReRez Research, and commissioned by Infoblox, shows that when IT departments are segmented by security success factors, there are certain best practices that rise to the top.
The study was comprised of 200 large organizations, and shows how certain habits differed between organizations with top-tier network security programs and everyone else.
These alterations in behavior matter, as breaches in security can cost organizations large fees in both recovery and damages.
Analysts estimate the cost of a typical unplanned network outage now tops $740,000. Protecting the network – from problems like breaches, outages and poor performance – is crucial for organizations. – Infoblox 2016 Network Protection Survey
Education is the first place you should start. Your network security awareness program is probably following a one-year plan, which isn't the best practice. Programs that follow 90-day plans are more effective, and focus on three topics simultaneously throughout those 90 days.
After your awareness program is in place, start thinking about your network security structure in a different way.
Below are the three secrets of the most highly effective network security programs.
1. Make Sure there is Cooperation Between the Network, Security and Application Teams
Siloing the various teams in your department can stifle your security activities, and keep you from reaching your goals. Network operations staff, the security staff and the application teams should all be communicating fluidly, with 100% of top-tier organizations in the survey citing this as a best practice.
High performing organizations are 9x more likely than others to be using integrated visibility tools already, and they're 4x as likely to be using integrated security tools in conjunction.
Communication becomes paramount when it comes to reporting. One key factor in running a successful network security program is being able to prove that success. The only way to do so is to collect metrics that reflect this success across the organization.
2. Utilize DNS/DHCP Data to it's Full Potential
This is a slowly growing but serious differentiator between effective and mediocre security departments. According to the survey, close to half of top-tier organizations use DNS/DHCP data to discover other new devices, compared to zero other contenders.
Not only are they tracking and utilizing the data, but they're 3x as likely to use DNS logs for security purposes.
3. Commit to the Continual Use of Intelligence
The most successful organizations have a mechanism in place that forces them to commit to security intelligence. They're 6x as likely to have deployed an SIEM, and 4x as likely to invest in machine-readable threat intelligence.
In addition to intelligence commitment, they're 6x as likely to use automated tools that alert them to new devices appearing on the network.
Keep in mind some of these changes when building your network security program – certain best practices could not only set you apart from the rest, but save your organization it's reputation, and hundreds of thousands in damages.
SMSEagle is Hardware SMS gateway to send and receive SMS text messages. To find out how we can help support your network security program, check out our online store.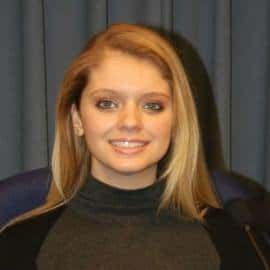 Megan has been writing about enterprise technology, data, infosecurity and environmental technology for several years. Tweet her @MeganRoseM, or check out her blog: www.meganmorreale.com.