FortiGate SMS notifications – integration manual
Here we describe how to setup FortiGate with SMSEagle for sms notifications.
SMSEagle Setup
FortiGate integration uses Email To SMS plugin (see details: Email To SMS plugin).
FortiGate Setup
To configure Email setting choose Config -> Advanced from the left menu System.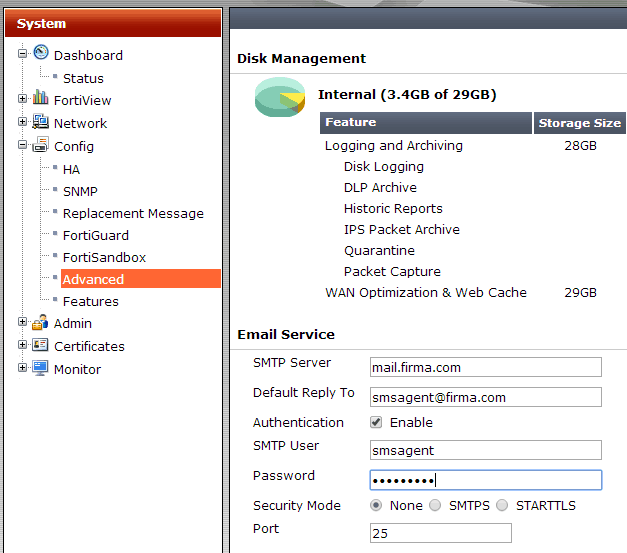 SMTP server
The SMTP server is used to send email notifications to users. Enter the address to the SMTP server you want to use. Note that the SMTP server must be able to accept all the email addresses that you are planning to use. This is the primary SMTP server that will normally be used (you can use SMSEagle as SMTP server).
Default reply to
Enter you email address
Authentication
Check If your SMTP server requires authentication, enter the username and password in these fields.
To configure choose Addmin -> Administrators from the left menu System.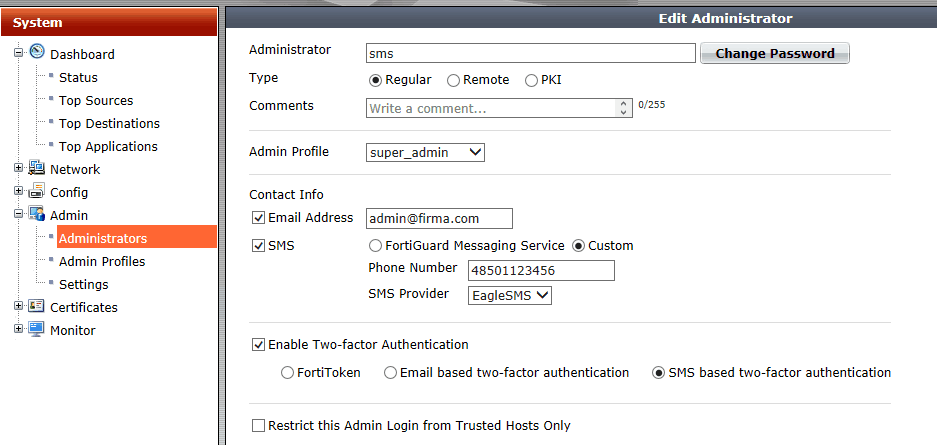 Contact Info Enter email and phone number.
SMSEagle as SMTP Server (optional)
For sending e-mail messages you can use SMTP server installed on the SMSEagle device. Then the configuration of SMTP server is as follows:
SMTP host: IP address of your device
SMTP port: 25
Authentication: SMSEagle SMTP server doesn't require authentication
Encryption: none
Notice: SMTP server on the SMSEagle device will accept messages addressed for it only. The other messages will be rejected.